Q5 - Verwood area to Queen Elizabeth School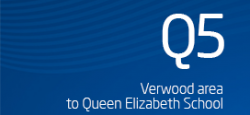 Students entitled to free school transport will receive their passes by post - the pass will show the route number on which it is valid.
Non-entitled students wishing to travel on this route from Verwood, Three Legged Crossed or West Moors can apply to purchase a surplus seat pass by contacting us.
Fares on-board:
From Verwood, Three Legged Cross or West Moors: £5.50 single / £8 return
From Ferndown: £5 single / £7 return
From Canford Bottom or Leigh Road: £3 single / £4.50 return
Please note: Ferndown will be served by the Q5 in the morning. The afternoon Q5 operates non-stop from Canford Bottom to West Moors, and the afternoon service to Ferndown is provided by the Q2. Combined Q5/Q2 passes for travel to and from Ferndown are available on our scholars pass site. Return tickets purchased on Q5 in Ferndown in the morning are valid on Q2 in the afternoon.
Download Timetable