Tickets are getting easier with Tap On Tap Off
POSTED BY:
Go South Coast Coaches
1st February, 2022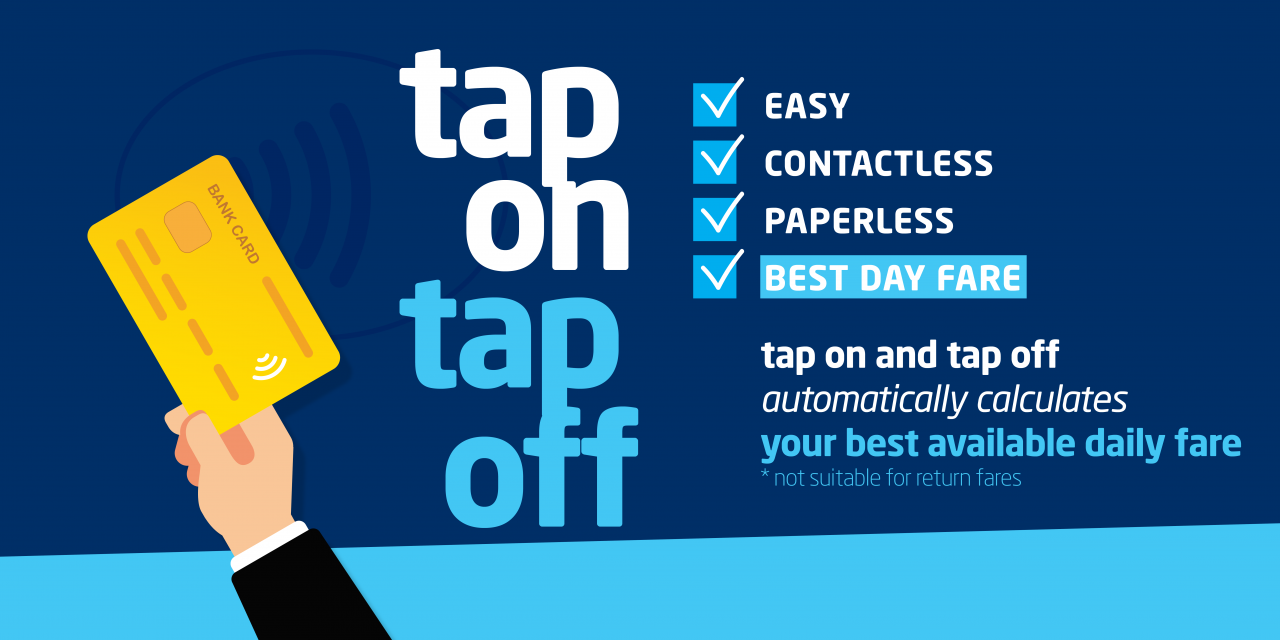 POSTED BY:
Go South Coast Coaches
1st February, 2022
Tickets have just got easier, with new improved contactless payments. Tap On, Tap Off is now live on some of our buses.
Tap On Tap Off is available on the Dorchester 1, Dorchester 2, 5, Dorchester 6, 20, 49, 71, 187, and X12.
Benefits of Tap On, Tap Off:
Easy to use - just tap on and tap off!
Contactless - no need to count loose change!
Paperless - better for the environment!
Best day fare - suitable for single trips and caps at a price of our lowest priced dayriders!
The following prices are for day tickets that are purchased through Tap On, Tap Off:
Dorchester Day Fares: £3.90
Network Day Fare: £9.20
We accept contactless on all our buses. You can pay debit or credit card with Visa or Mastercard, as well as by Apple Pay or Android Pay.
Who is it for?
Tap on, tap off is suitable for adults making a single trip or multiple trips in any one day on Damory services.
How does it work?
Simply TAP ON using the driver's ticket machine at the start of each journey and TAP OFF at the end of each journey on the driver's ticket machine, using a contactless payment method.
There is no need to tell the driver where you are going, and you don't need a paper ticket. This all helps to make boarding our buses easier and faster.
How do I know what I will be charged?
If you use tap on tap off, the day cap is the same as our dayrider tickets depending on what zone you have travelled in.
If you only make a single journey you will only be charged the standard single adult fare.
What if I only make one or two trips?
The system will record exactly where you have travelled from and to and your fare will be charged at the rate of a single journey.
How can I check what I have been charged?
You can check your journey and fare history through our Contactless Customer Portal. The portal will be branded littlepay. You can either set up an account or proceed as a guest - you will need the details of the payment card you used on the bus to track your trips.
Do I have to register my card first?
To use Tap On, Tap Off there is no need to register or sign up - you can board the bus with your contactless card or device to tap on and off. However, if you want to see your trip history, you will need to log into the Customer Portal.
Can I use more than one bank card?
To get the best available daily fare you will need to use the same card that day. If you use other contactless cards, your transactions will not be linked.
Who is Tap On and Tap Off suitable for?
Adults who buy single or dayrider tickets.
Who does it not work for?
It won't be suitable for:
Customers buying return tickets that are less than the daily capped zone price
Customers purchasing a transfer fare from one route to another
Child fares
Group tickets
Customers who wish to buy promotional discounted tickets from the driver
Customers who wish to buy period passes or multi-trips.
What happens if I forget to tap off?
You will be charged the single fare to the end of the route, so always remember to tap off in order to pay the correct fare. If you do forget to tap off and are overcharged as a result, please contact customer services.
How will it appear on my bank statement?
You will see a charge to your bank account from Go South Coast, you may see more than one charge in one day, but the total added together will be no more than the cost of an adult dayrider or night rider ticket.
What if the bus I am on breaks down and I am asked to transfer to another bus?
On the rare occasion this happens our driver will tell you what to do, but you should tap off of the bus you started your journey on, i.e the bus that broke down, and do not tap on or off of the bus you are transferred to. For any additional trips you make that day, please tap on and tap off as normal.
What if I get asked to use my PIN?
The new requirement to enter your PIN number after five contactless transactions does not apply on our buses.