PB5 - West Morden to Purbeck School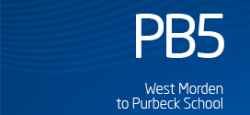 Students entitled to free school transport will receive their passes by post - the pass will show the route number on which it is valid.
Non-entitled students wishing to travel on this route may purchase a pass through our scholars pass site, or buy a single or return ticket on the bus.
Child single - £4. Child return - £6.
Please note - PB5 does not serve West Morden in the afternoon. Students from West Morden should return on service L4.
Download Timetable