PB6 - Bovington area to Purbeck School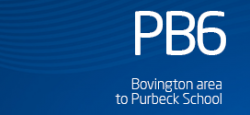 This route is for passholders only. Students entitled to free school transport will receive their passes by post - the pass will show the route number on which it is valid.
Non-entitled students wishing to travel on this route can apply to purchase a surplus seat pass by contacting us. A waiting list system is currently in place for surplus seat passes and availability cannot be guaranteed.
Child single and return fares are currently available on route PB6, however, we reserve the right to withdraw these from sale if overcrowding becomes a problem on this route. The school will be given advance notice if this becomes necessary.
Child single - £4. Child return - £6.
Please note - Students from West Morden and Bere Regis holding PB6 passes should use route PB5 in the afternoons (from Monday 14th October). These PB6 passes will be accepted on the afternoon PB5.
Download Timetable