PB7 - Broadmayne to Purbeck School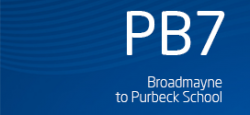 Students entitled to free school transport will receive their passes by post - the pass will show the route number on which it is valid.
Non-entitled students wishing to travel on this route may purchase a pass through our scholars pass site.
Due to roadworks taking place between 14th September and 9th October 2020, there will be a temporary timetable in place during this time. View temporary PDF timetable.
Download Timetable