Q2 - Ferndown area and Canford Bottom to QE School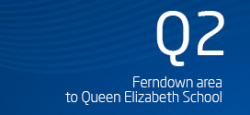 Students entitled to free school transport will receive their passes by post - the pass will show the route number on which it is valid.
Non entitled students wishing to travel on this route should apply to purchase a surplus seat pass by joining the surplus seat waiting list.
Fares on-board:
From Ferndown: £5.30 single / £7 return
From Canford Bottom: £3.20 single / £4.80 return
Please note - The morning journey operates as service F2 from St Ives to Ferndown Upper School and then continues as the Q2 to QE School. QE students in the St Ives, Three Legged Cross, West Moors and Tricketts Cross areas holding passes showing both F2 and Q2 should board the F2 and then remain on board when the bus reaches Ferndown Upper School.
Download Timetable