Q4 - AMENDED: Verwood to Queen Elizabeth School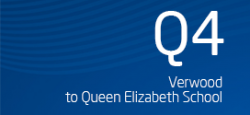 This service is currently amended due to the national lockdown. For students still needing to attend school, all parts of the Q4 route are being served as normal, and the route is also extended to serve some other areas - view PDF timetable. Please notify the school if you intend to use this temporary service. Details of the normal service, operated when the school is fully open, remain below for reference.
---
Normal service details:
Students entitled to free school transport will receive their passes by post - the pass will show the route number on which it is valid.
Non-entitled students wishing to travel on this route can apply to purchase a surplus seat pass by contacting us.
Fares on-board: £5.50 single / £8 return
Download Timetable