Q9 - SUSPENDED: Woodlands to Queen Elizabeth School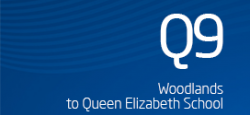 This service is currently suspended during the national lockdown. Please notify the school if you require transport from any of the areas not currently being served. Details of the normal service, operated when the school is fully open, remain below for reference.
---
Normal service details:
This route is for passholders only. Students entitled to free school transport will receive their passes by post - the pass will show the route number on which it is valid.
Non-entitled students wishing to travel on this route can apply to purchase a surplus seat pass by contacting us. A waiting list system is currently in place for surplus seat passes and availability cannot be guaranteed.
This service no longer serves St Michael's Middle School. A new, dedicated Q9/10 service serves St Michael's Middle School. View the Q9/Q10 Allenbourn Middle School timetable.
Download Timetable